1 Hour Reiki with (optional) Cacao
Wednesday 14 August 2019 9:00 AM Friday 13 September 2019 9:00 AM
Save
Saved
24hr Flash Sale. 1 hour of Reiki with Cacao for €40. Only a few available!!

Allow the combination of Cacao and Reiki to bring your entire being back into a state of balance and relaxation. This session can also be done without Cacao if preferred.
Reiki is a channeling of high frequency energy which will meet you where you're at and infuse your body with the exact type of healing and realignment it needs for that moment. Your system will 'drink it in' to the area it is most needed and re-balance itself in the way that's right for you, bringing the nervous system back into a state of coherence, resulting in more relaxation and peace, deep healing and greater connection.
SOME OF THE BENEFITS OF REIKI INCLUDE:
Deep relaxation and nervous system realignment
Realignment of the chakra system
Enhancement of your body's natural healing abilities
Increased immunity
Regulation of blood pressure
Regulation of mood
Better sleep
Lowering of stress hormones, a shift out of 'fight/flight' mode and back into coherence
Profound spiritual openings
Increased clarity around life situations and issues.
Cacao is served to help guide the session deeper; open up the energetic system even more to allow the energy to flow deeper, while helping you to open your heart and feel the energy flow in a more profound way.
Cacao is a powerful but gentle and loving teacher plant that can help you access deep parts of yourself that are calling for your attention and love. She can help you release old patterns of conditioning; emotional, physical and mental blocks that no longer serve; and welcome in more joy, more love and more magic in their place.... More of you!
Important information about working with Cacao:
*ANTI-DEPRESSANTS*
The MAOIs in cacao can interact with some anti-depressant medication so Google your meds. It's not dangerous, just unpleasant as it can create a migraine. Let me know if you're taking any as I may need to alter your dose, but you can absolutely still join.
*PREGNANCY/BREASTFEEDING**Cacao is safe and really good for developing babies but your dose may need to be lowered, depending on the stage so let me know if that applies to you.
*HEART CONDITIONS**Cacao increases your heart rate 20-30% so if this would be a problem for you let me know and I will alter your dose. It's an amazing heart medicine but you may need to start slower with it.
Tickets are valid for 30 days from purchase and are non-refundable.
Email hearttribecacao@gmail.com to book your treatment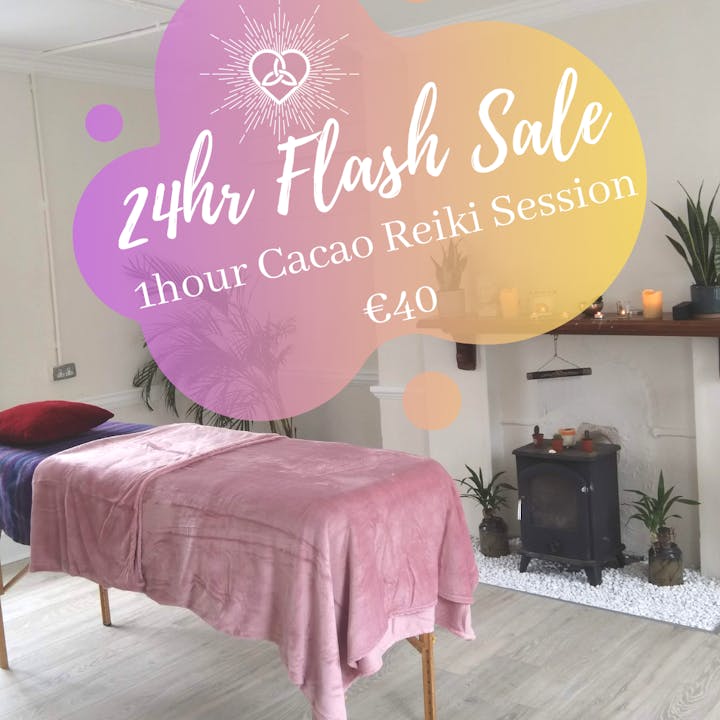 Nearby hotels and apartments
Well Space
Blackrock Market , Blackrock, Dublin, Ireland
Blackrock Market , Blackrock, Dublin, Ireland
Event from
eventbrite.ie