Cyber Expo Ireland 2018
Wednesday 28 November 2018 8:00 AM Wednesday 28 November 2018 4:00 PM
Save
Saved
Last update 29/11/2018
130
On 29th November 2017, Renaissance welcomed 600+ delegates from around the world into the IMI for the inaugural Cyber Expo Ireland.
Responding to market pressure and increased customer demand to understand practical solutions to avoid or recover from cyber-attacks, Renaissance Ireland's leading data security distributor, is delighted to announce the return of Cyber Expo Ireland in 2018 on the 28th November at the Irish Management Institute (IMI) Dublin.
This one day expo will bring together the whole Cyber Security Ecosystem- Exhibitors, Resellers, End Users, IT Experts and general business thought leaders who are keen to understand what they can do to mitigate security risks to their business.
The Expo will run from 8am - 4pm and will host world class security solution companies who will share their latest advances in the cyber space.
Network with top industry professionals, gain expert insights into emerging cyber security issues and advice on how to best defend your business against ransomware and cybercrime.
Cyber Expo Ireland 2018 Exhibitors:
Vendors
Agari

Altaro

Appixoft

Bitdefender

Bullwall

CA Technolgoies

CensorNet

ClearCrypt

Cososys

CyglasS
Data443

Entrust Datacard

Ericom Software

Heimdal

Indegy
Jetico

Netfort

Netshield

PixAlert

SecurityScorecard

Solarwinds

Sophos

Watchguard

Tenfold

Trustwave

Veracode
Resellers
Actionpoint

Commsec
CARA
DNA IT

Futurerange

IAM Experts

Intuity

ITMS

NSSL

Paradyn

Pemari

Qualcom

Unity
Experts
Burning Tree

Mazars

RITS

Smith & Williamson

VM Forensics
More Exhibitors TBA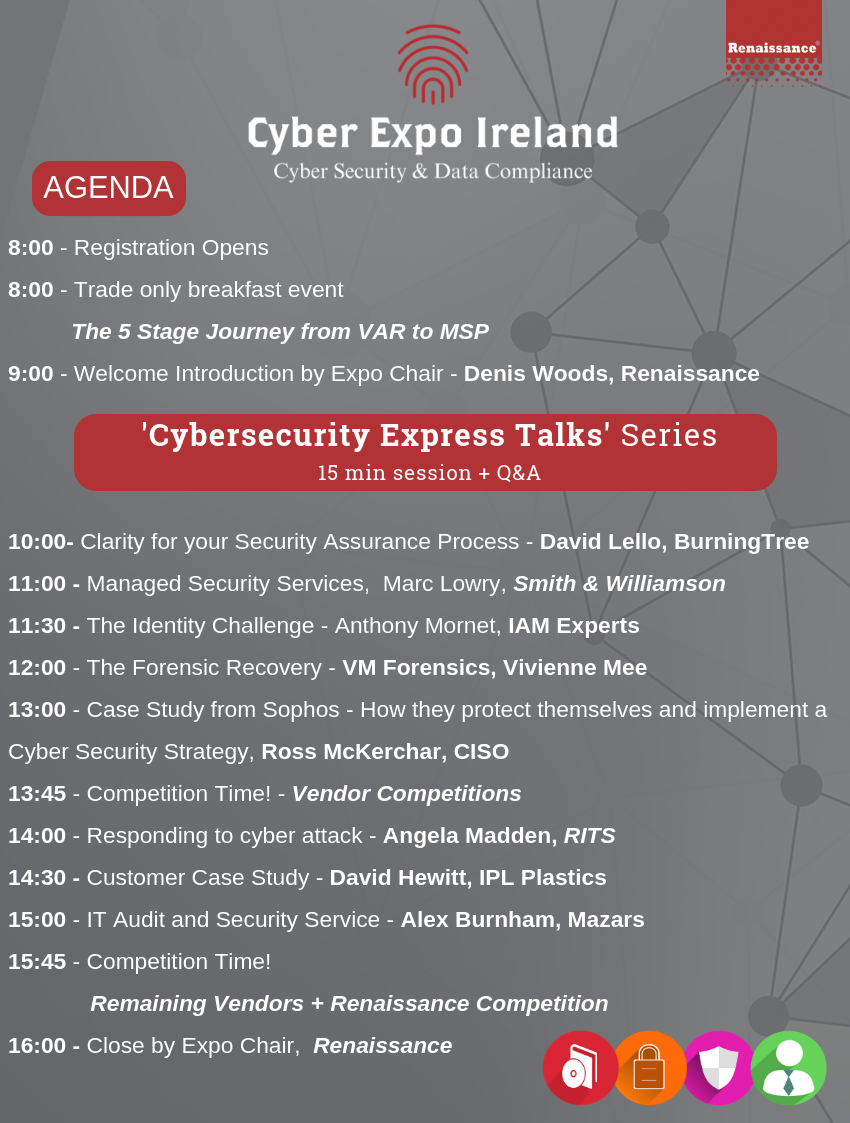 Who Should Attend:
Our Expo will be open to IT Trade and End Users in the Irish market. There will be heavy focus to attract value added partners to the Expo, while we will also be keen to attract SMB and Corporate Users to demonstrate how they can apply Data Security and Compliance solutions within their organisations to develop and deliver their GDPR and other regulatory requirements.
Don't miss out, register today to join our Cyber Security Ecosystem!
Nearby hotels and apartments
Irish Management Institute
Sandyford Road, Dublin 16, Ireland, Dublin, Ireland
Irish Management Institute
Sandyford Road, Dublin 16, Ireland, Dublin, Ireland
Event from
eventbrite.ie