3Dcamp Dublin & Irish VR meetup
Thu, 12 Jul 2018 - Thu, 12 Jul 2018
18:30 - 21:00
Our July meetup will feature presentations, demos and discussions.
Presentations
(1) How Fully Immersive VR is Transforming Healthcare Training
"The demands of surgical training go beyond just virtual visual experiences. Surgeons and physicians are looking for fully immersive, multi-sensory virtual environments. Combine real patient data, real case scans, real surgical instruments and realistic haptic and tactile feel; then immerse this in a Virtual Operating Room and this will be the game changer."
Brad Wrigley is the COO and a Co-founder of Marion Surgical, a Cork and Toronto based company.
Brad comes from 20+ yrs working in the BPO Consulting and Tech Industry (but still claims not to be a techie).
Marion Surgical was formed to address the real problem of truly and accurately simulating surgical training in a VR OR. Their simulator solution combines a hardware layer using haptic robotics, medical instruments and Oculus headset and a software/cloud layer providing multiple and customizable VR operating experiences to surgeons. See how it works here.
Marion Surgical's first product launched in May 2018 at the AUA conference in San Francisco.
(2) Training Medical Professionals to Analyse Microscopy Datasets in Mixed Reality
Analysis of medical samples, whether for disease diagnosis or drug development, often involves interpreting complex datasets captured from high-resolution medical microscopes. Training medical professionals to acquire or improve this interpretive skill is traditionally carried out via face-to-face group-based training sessions using reference images and models. Sentireal is working with Andor Technologies to improve learning outcomes and knowledge retention in this training area using multi-user mixed-reality experiences created for the Microsoft Hololens.
Dr. David Trainor is the CEO of Sentireal, a training technology company based in Belfast. Sentireal's software and media generates personalised content using AI and presents that content using VR/AR/MR technologies. This combination provides "personal immersive learning" and Sentireal applies this to a number of training sectors, with medicine and healthcare being the largest of these. David is also the Co-Chair of the VR/AR Association's industry committee for Training.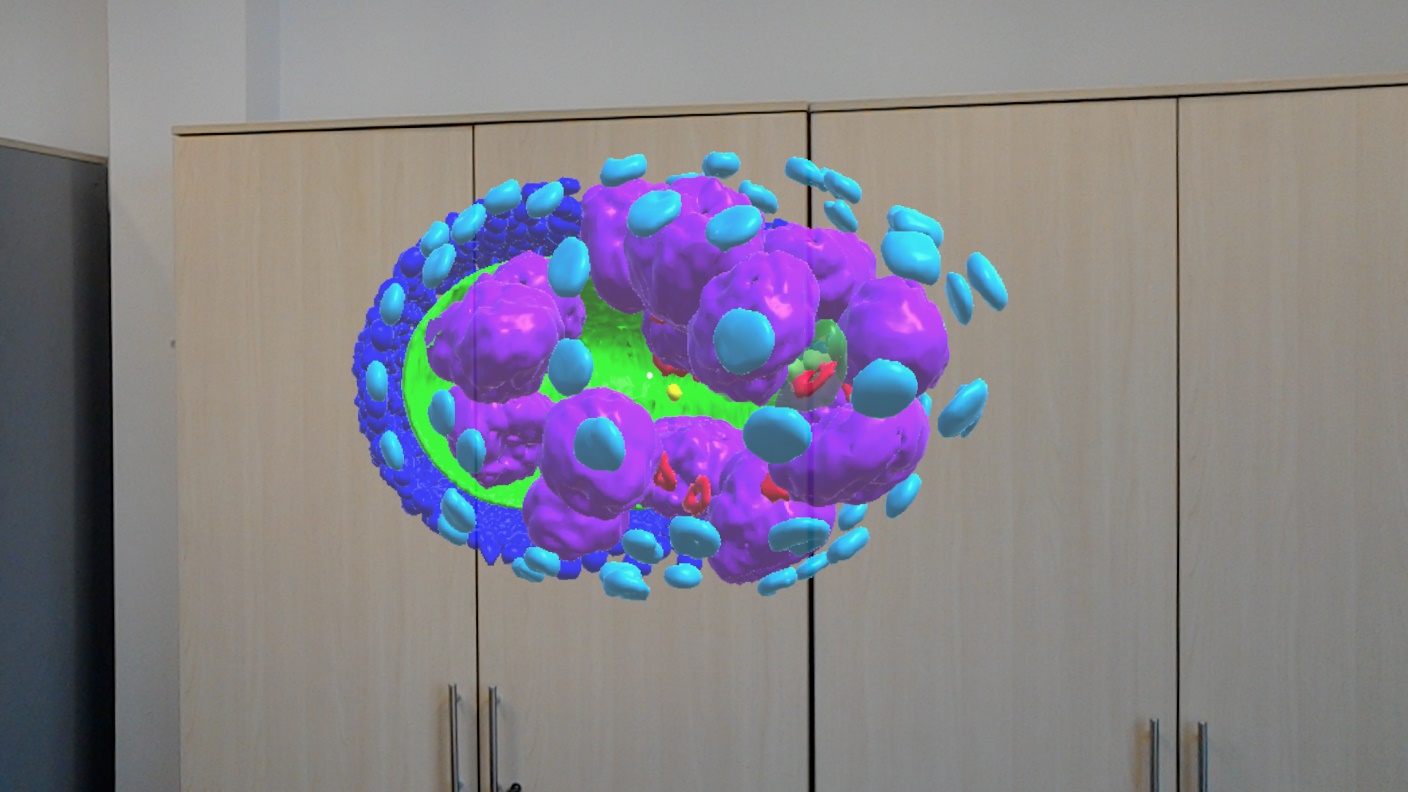 Visualised dataset as seen via Hololens
(3) Augmented Reality for Education - the potential and opportunities
Darya Yegorina is Founder and CEO of Cleverbooks, who develop Curriculum-based Augmented Reality Solutions for Education. She'll speak about why AR in Education has potential, how quickly AR can be adopted by the education sector, AR opportunities in education worldwide, and her experiences from the Middle East and North America.
Darya is a serial entrepreneur, in multiple industries. Apart from being an entrepreneur, she has a massive professional experience from start-ups to multinational corporations. Darya's current focus is on emerging technologies for education where she has the mission to deliver the most innovative Augmented Reality technology to schools around the world and to create equal access to technology for kids globally. She is a professional speaker on a global scale representing women in tech and inspiring new entrepreneurs.
Darya is Dublin Ambassador for Women of Wearables, and an Ambassador at HundEd.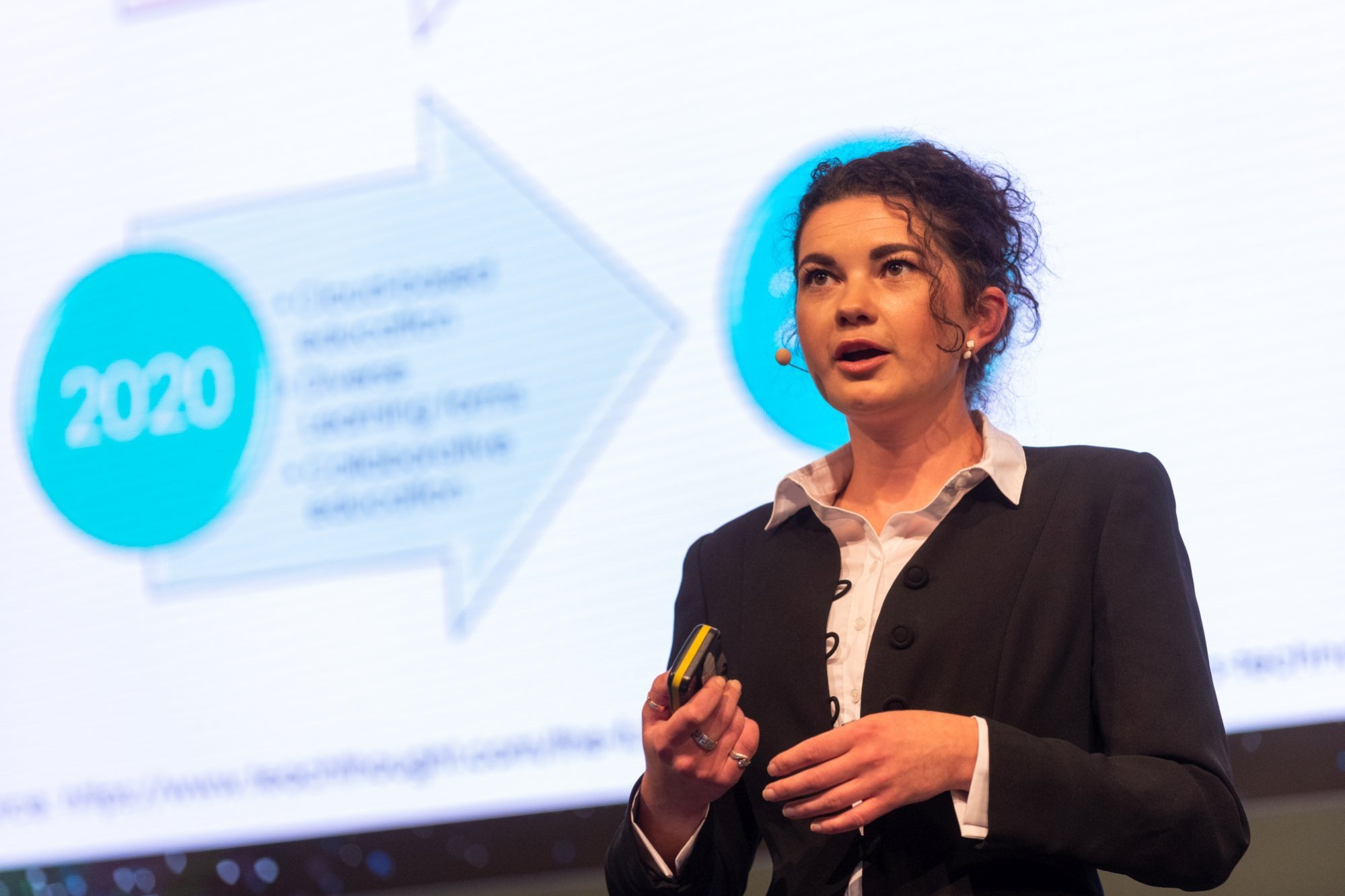 (4) How VR made it onto Ireland's Surgical Training Programme
In July 2018 the new surgical trainees starting in Royal College of Surgeons in Ireland (RCSI) will be the first group to experience VR as part of their core surgical training delivery. Four other VR apps were created, and this is a presentation of what worked and what didn't work, as well as a demo of the content that the trainees will be using. Also discussed will be the challenges around delivering VR to a large group and options around distribution. As well as how we use VR to engage up and coming students. Doncha Ryan, who is the Lead Technology Officer, Surgical Affairs will present.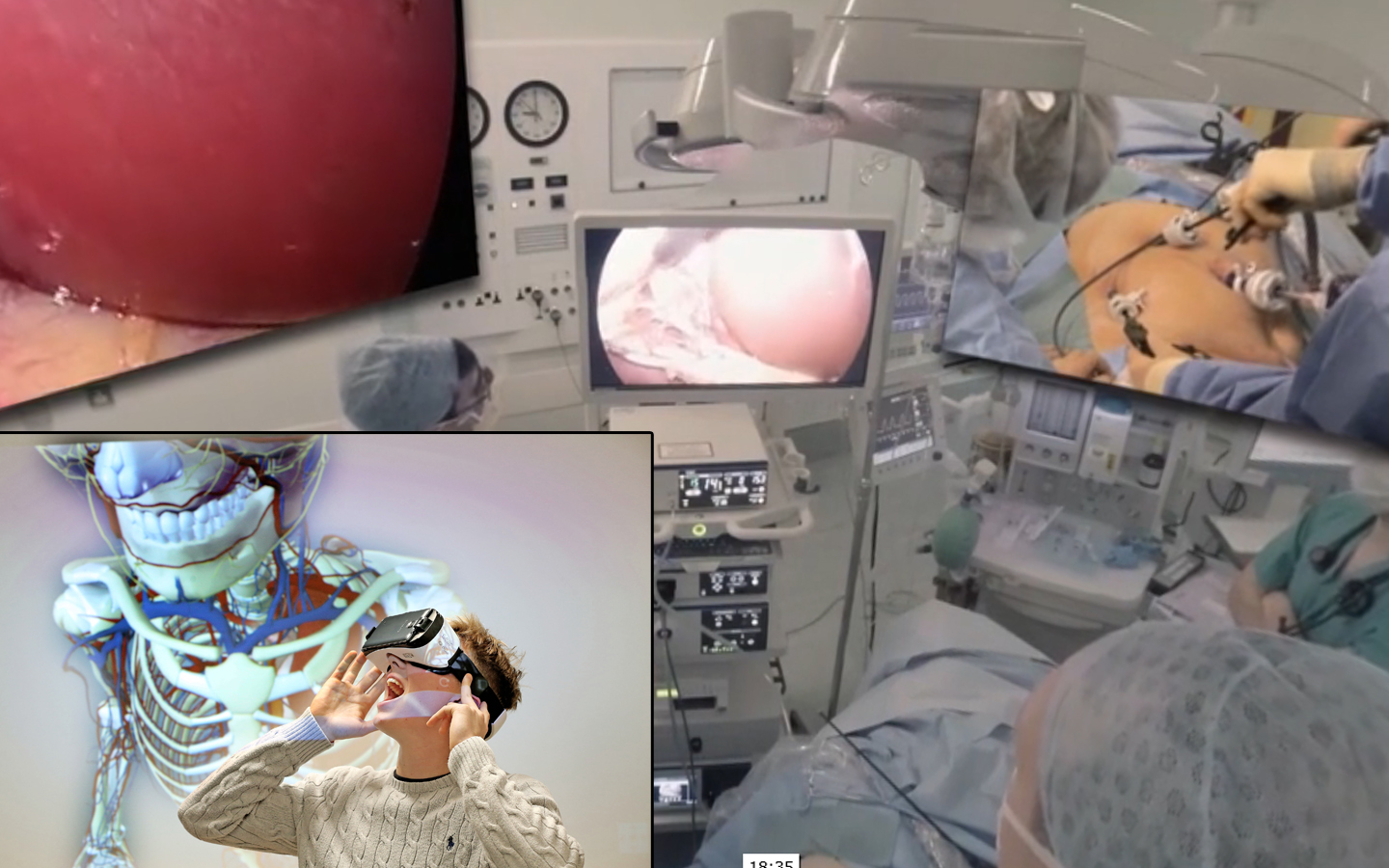 Demos
(1) VR Military Simulations, including helicopter crew refinement simulation (Pilots and winch operator) for the Irish Air Corps.
Damien Meade is a current member in the Irish defence forces with 14yrs service, He was a Co-founder of OCTAGON GAMES and recently OCTAGON SIMULATIONS, during his time with OCTAGON GAMES he was the lead artist, He has also developed 3D assets for many game development agencies as a freelancer and assets for flight simulations, both aircraft and scenery.
Damien as a simulation enthusiast set up OCTAGON SIMULATIONS in 2016 to produce military simulations designed around technology used by our forces as a proof of concept to demonstrate to the Army that custom simulations can provide better training to our forces.
Damien is currently taking lead on the SIMPAL simulation system which he designed for military simulations.
Damien has developed 2 working demos for the Army and is now currently developing a helicopter rescue simulation to improve crew refinement for the Irish Air Corp.

MFC Simulation for mortar fire in the Glen Of Imaal (Current training grounds for the Irish Defence Forces.)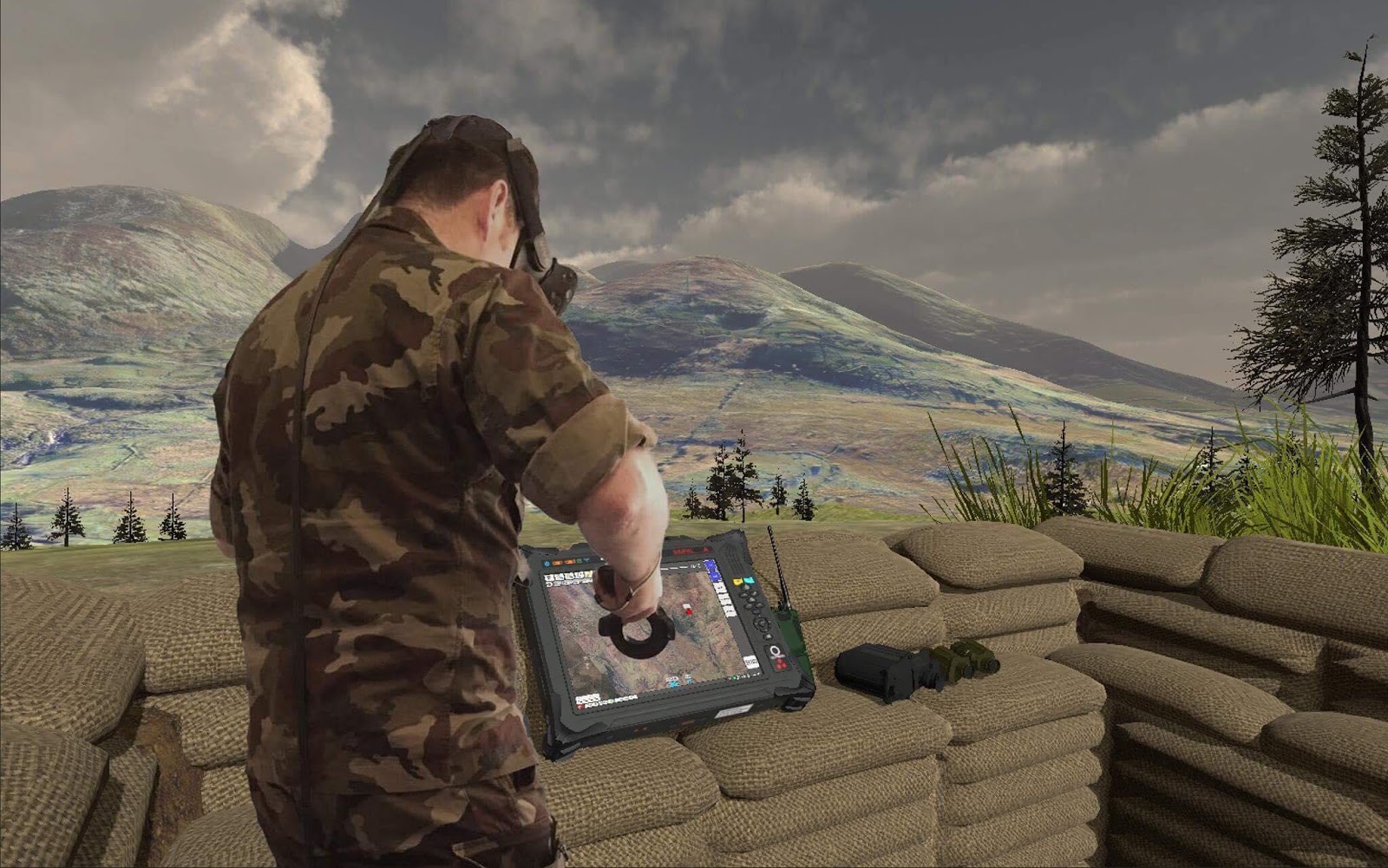 MOWAG APC driving and gunnery simulation for crew refinement in tactical environments.




EC135P2 Helicopter crew refinement simulation (Pilots and winch operator) for the Irish Air Corps.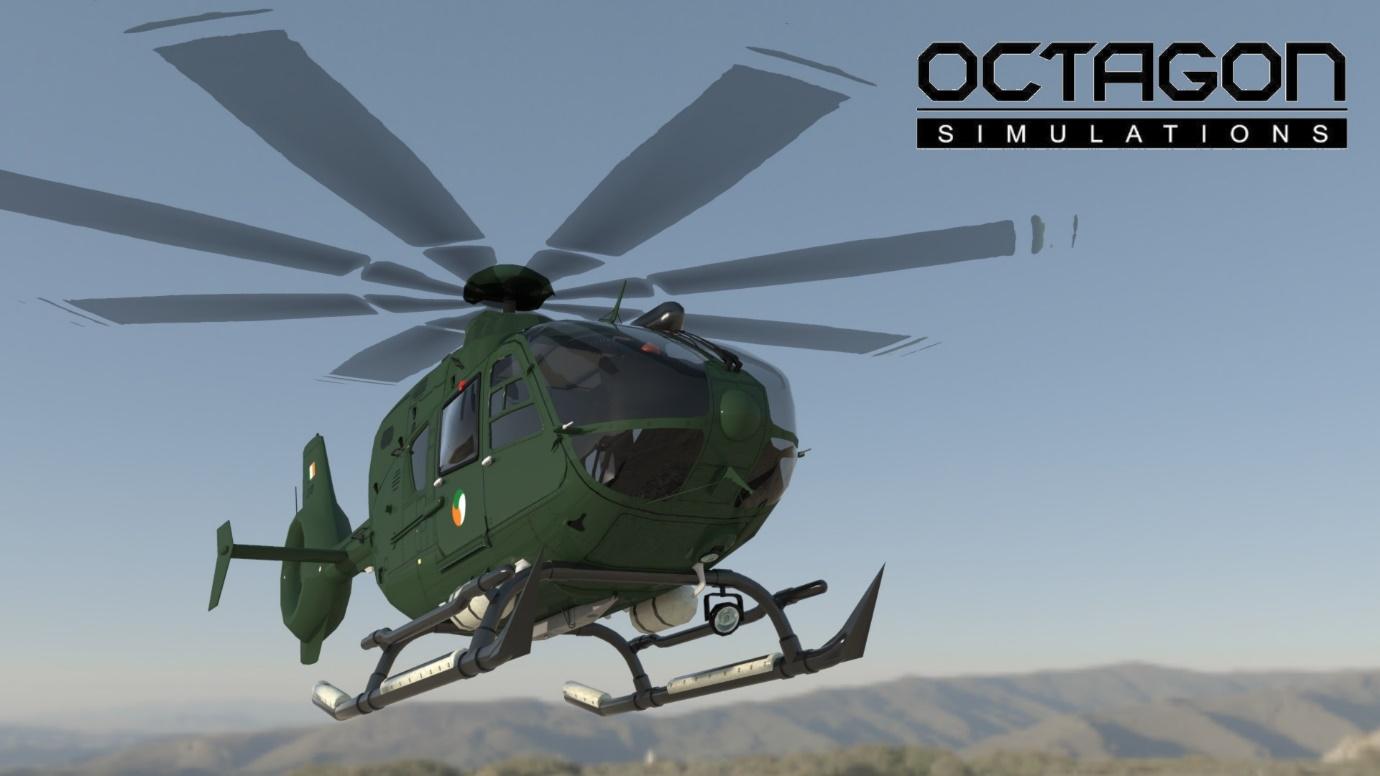 (2) Building City Dashboards
Cordula Hansen and Gareth Young will be demonstrating a digital virtual environment artwork developed for the Building City Dashboards project at Maynooth University. The goal of this initiative is to increase the public impact of the project's research and to explore and expand creative expression in the digital space by using visualisations of open urban data.
"Emotional Data in a Smart City: Word Clouds D7" by Dr. Cordula Hansen is inspired by a record of adult fiction titles issued and renewed in Dublin libraries during the month of November 2016. "Word Clouds" explores the narrative potential both of the data itself and VR as a medium:
The stories read by Dublin borrowers in November seem to be of a gothic, sometimes wistful mood. Juxtaposed with the sunny garden featuring an origami landscape, the pool represents perhaps the subconscious of the city, the pool of narratives we construct and weave into our lives.Plants and environments are a nod towards an artistic, handmade aesthetic to counter-balance the temptation of simulation in a virtual environment."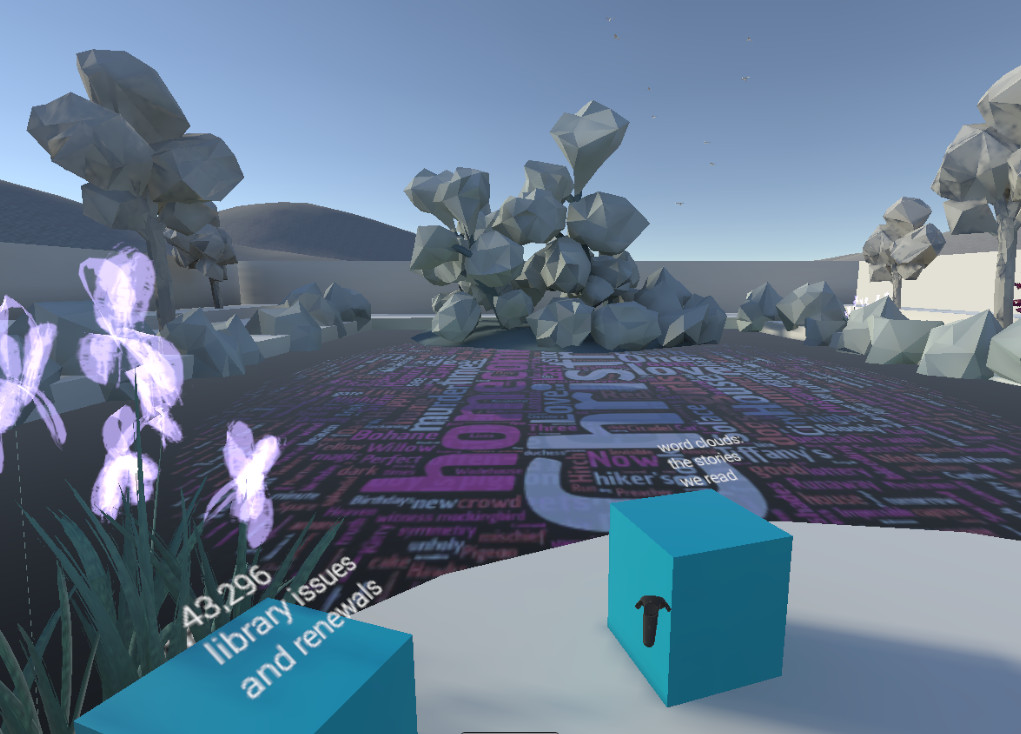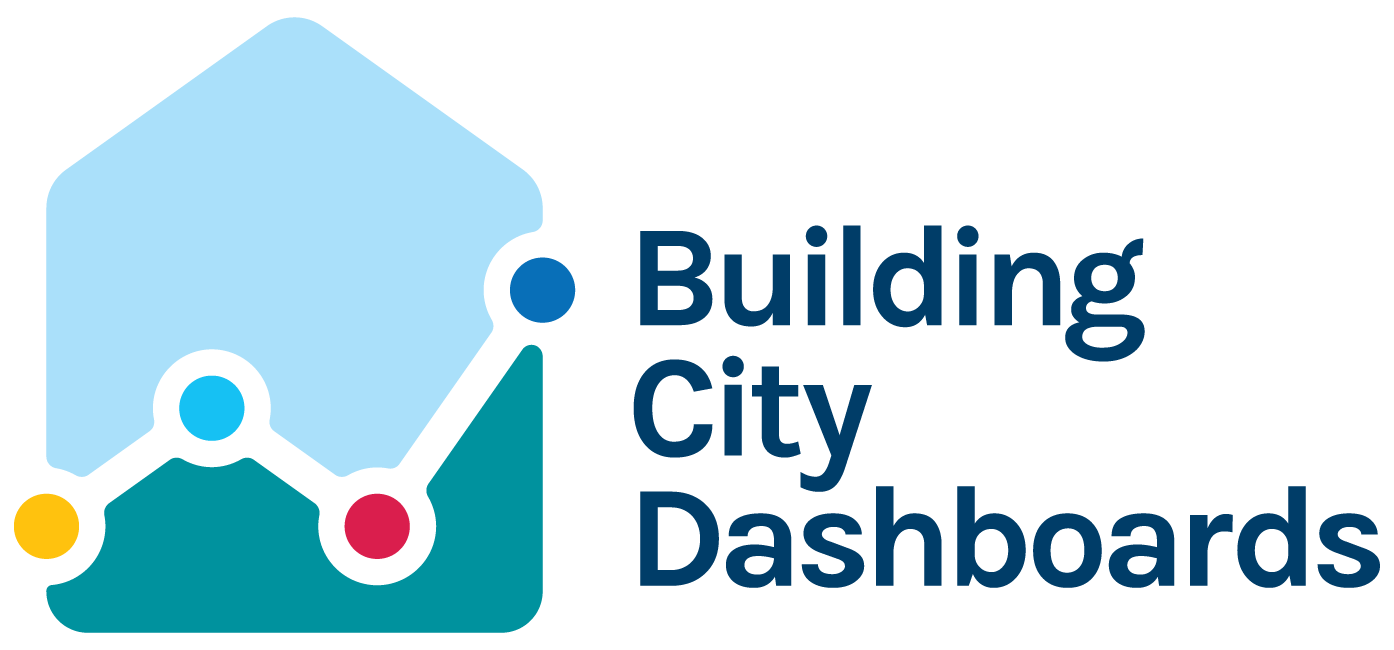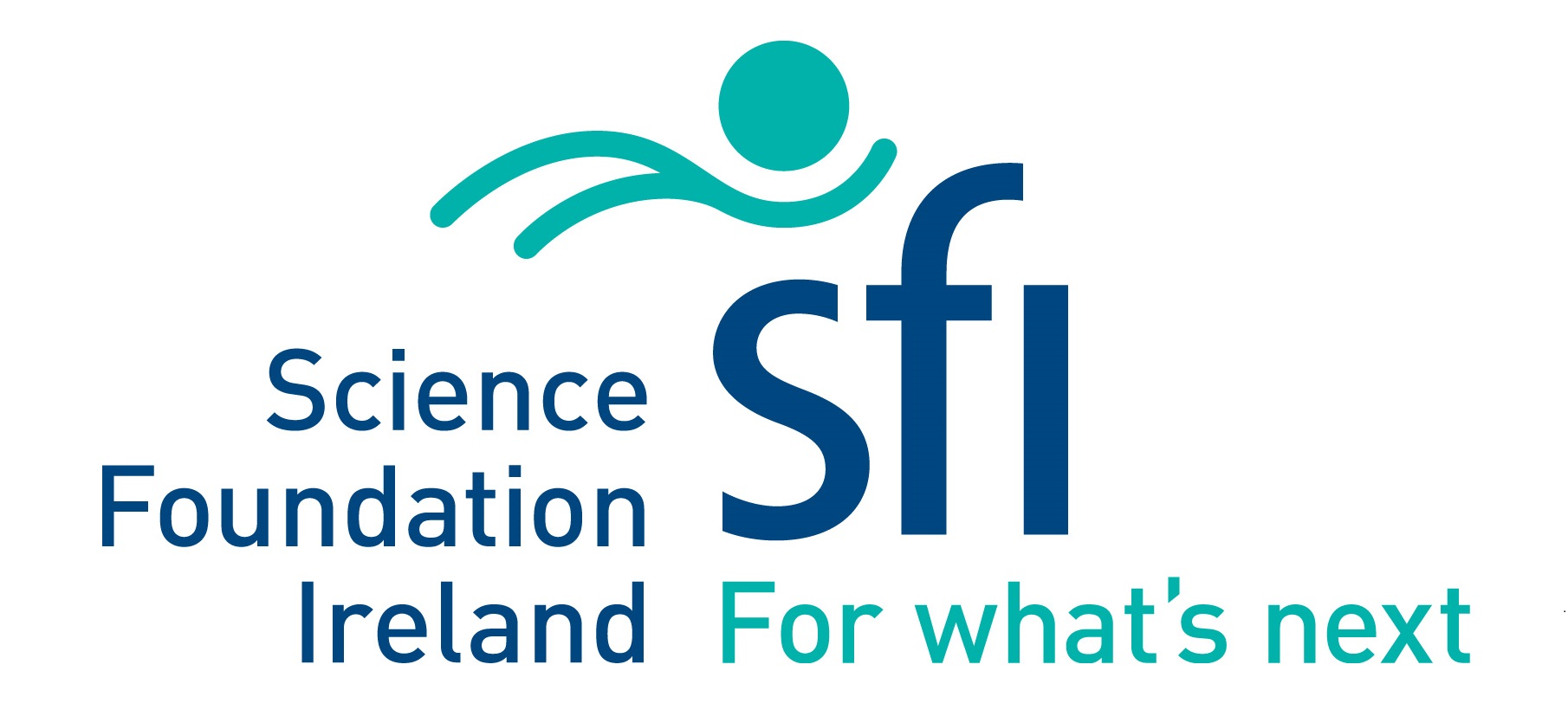 (3) Augmented Reality Medical Training App
DataEgg's aim is to automate Augmented Reality in industry while connecting IoT. DataEgg's product platform enables their customers to utilise augmented reality and other visualisation technologies in industry in a reusable and sustainable manner. Their goal is for companies to drive up productivity, increase efficiency and ultimately take advantage of the new digital era by utilising DataEgg's product and service offering. DataEgg CEO Gary Sheedy will demo their AR Medical Training App, AR Inspection App and others.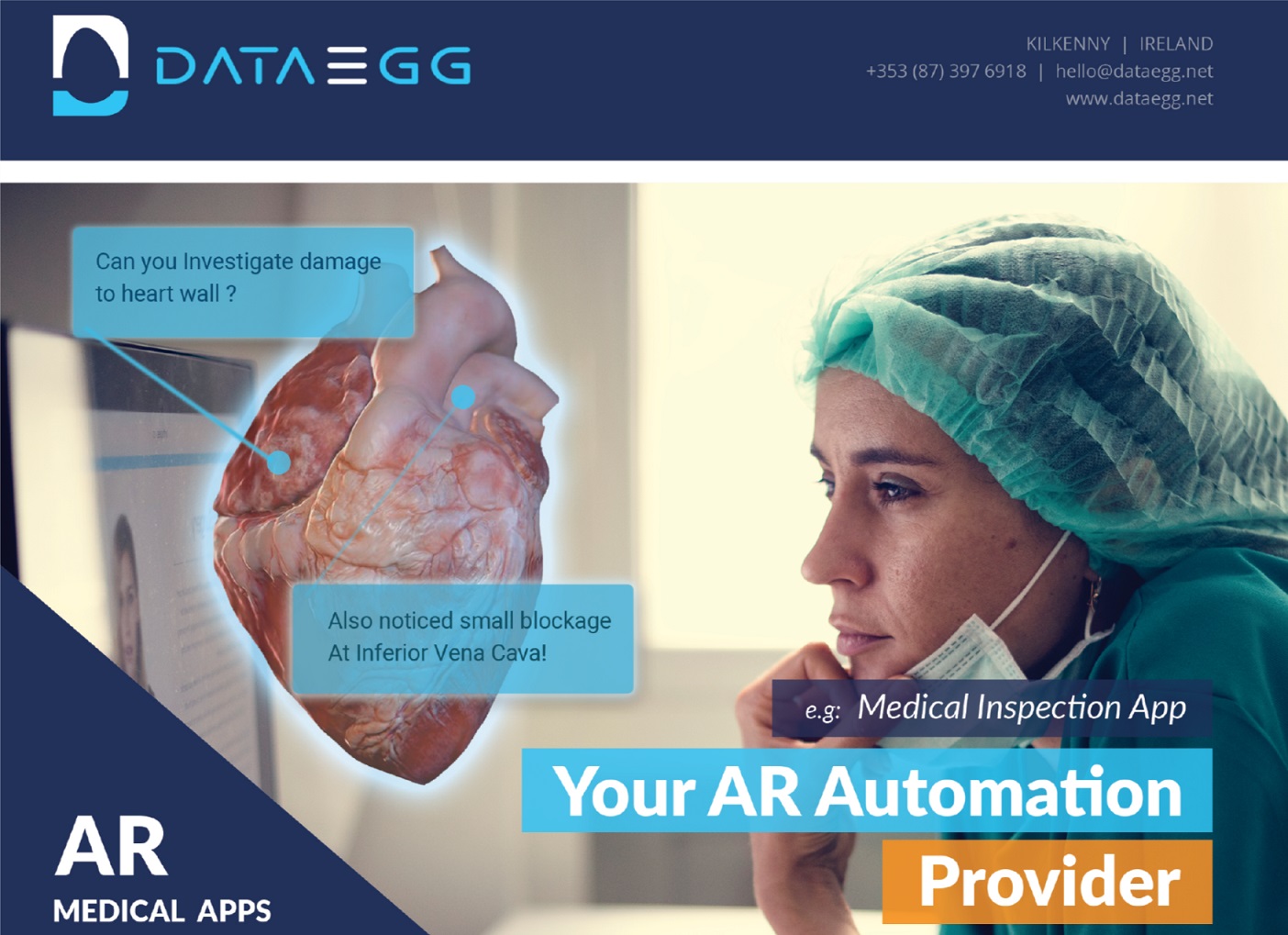 (4) Immersive VR world with building development and gardens
Stephen Sharkey is a web developer, 3D modeler and VR developer specialising in the Unreal Game Development Engine.
Stephen will be presenting a fully immersive VR world, consisting of a building development and gardens. The goal of the project is to showcase his VR skills with an aim to setup a VR startup in the coming months. This startup will focus mainly on learning applications for all industries, architectural simulations and ad hoc VR experiences.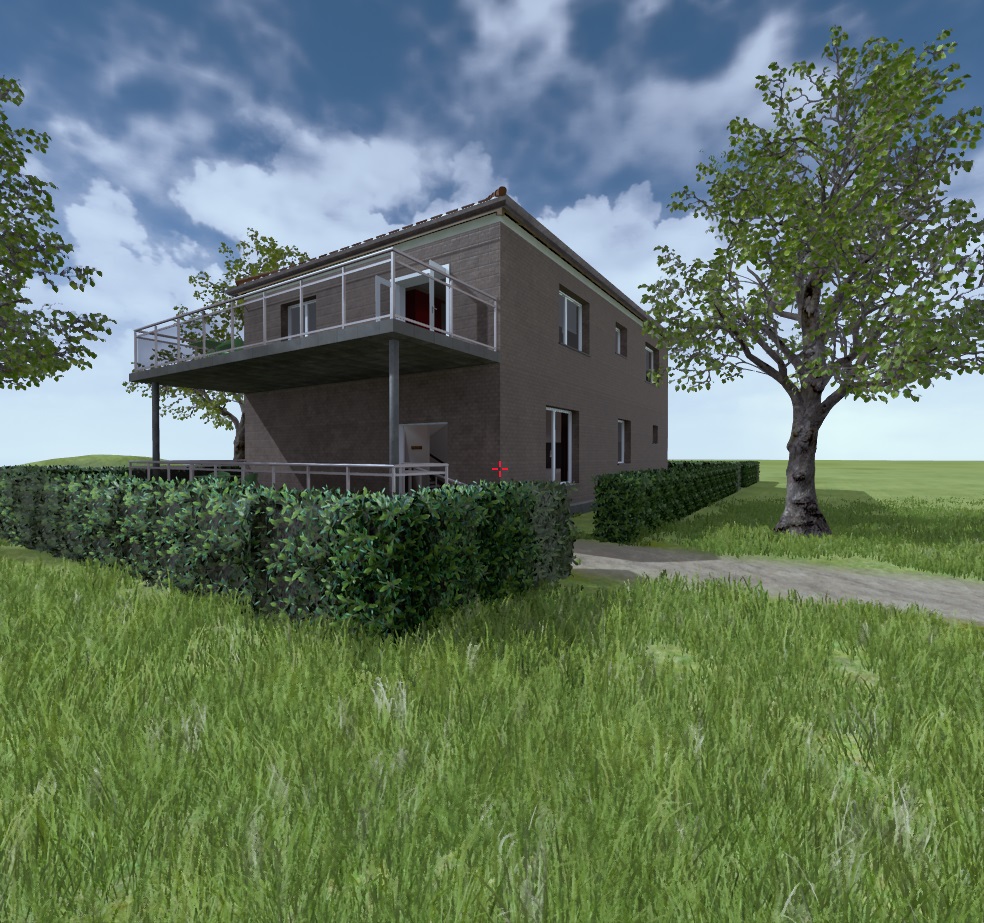 (5) UtilityAR Asset Management Tool for Utility field technicians
UtilityAR is building an Asset Management Tool for Utility field technicians that runs on a selection of Augmented Reality Headsets. It allows a technician in the field to identify an asset that needs maintenance, walks them through the procedure for fixing the problem, and do remote calls back to the office if they need help trouble shooting any problems. They will be showing how the system works and looking for your feedback, CVs and funding!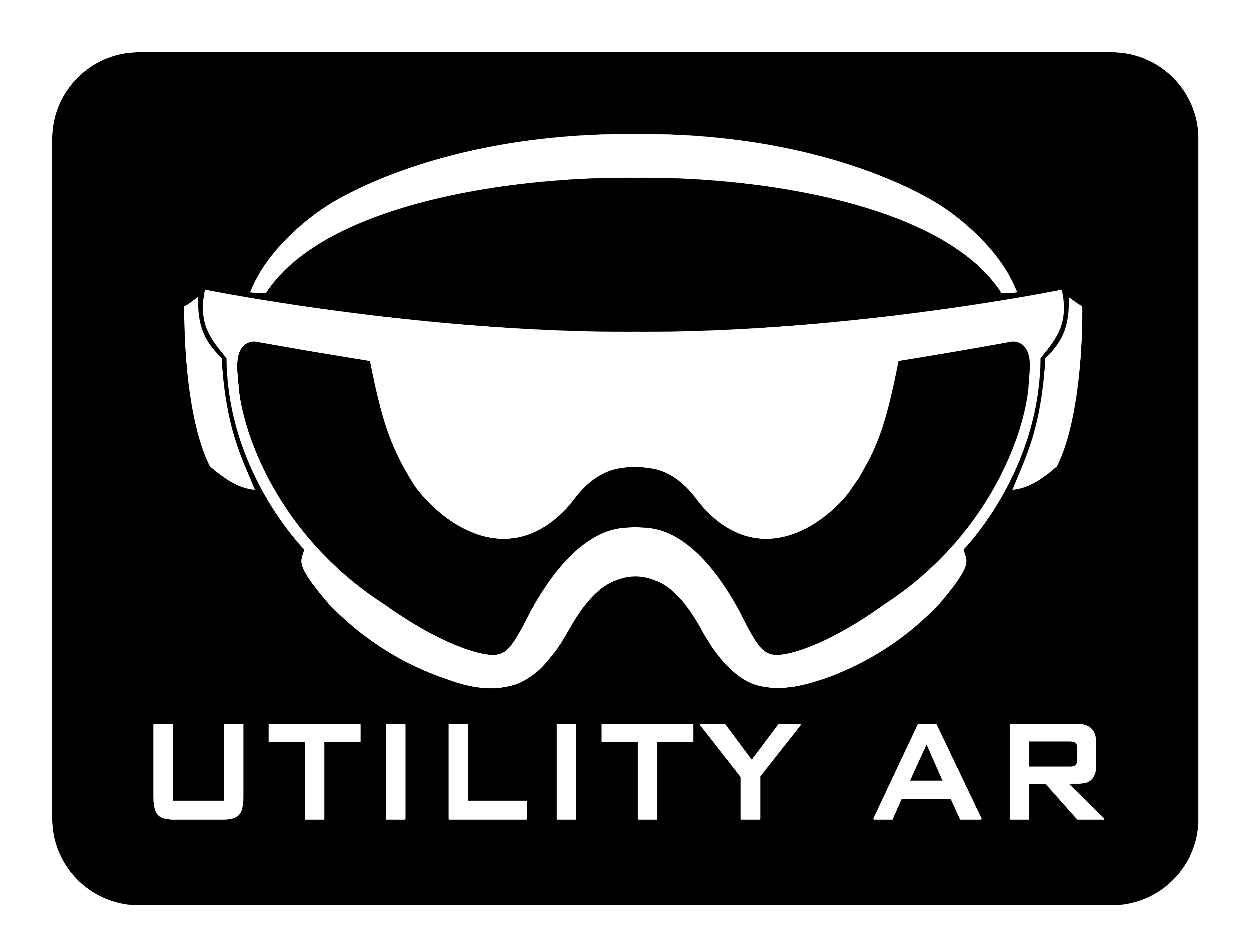 (6) Immersive Storytelling in Virtual Reality + Midnight Noir VR
As part of a college thesis titled Immersive Storytelling in Virtual Reality, Sean Thomas, Founder and Creative Director at Hexedron has developed the game prototype Midnight Noir VR, which is an immersive horror experience that makes use of various design techniques that act as guidelines for developing cross-platform games, playable in both VR and conventional 3D setups.
Various movement systems were investigated and the prototype attempts to bring motion sickness to a minimum through implementation of movement via a PlayStation DualShock 4 controller.
More information on the project available at http://gradshow.iadt.ie/assets/MM4/Poster/N00144814_Poster.pdf
Hexedron, a small video game studio in South Dublin. After developing a small game on Scratch at age 12 that accumulated over 65,000 views, Sean took a significant interest in game design and development. After graduating from IADT in 2018 with a thesis titled Immersive Storytelling in Virtual Reality, he went on to found Hexedron, and is currently working on the studio's first title.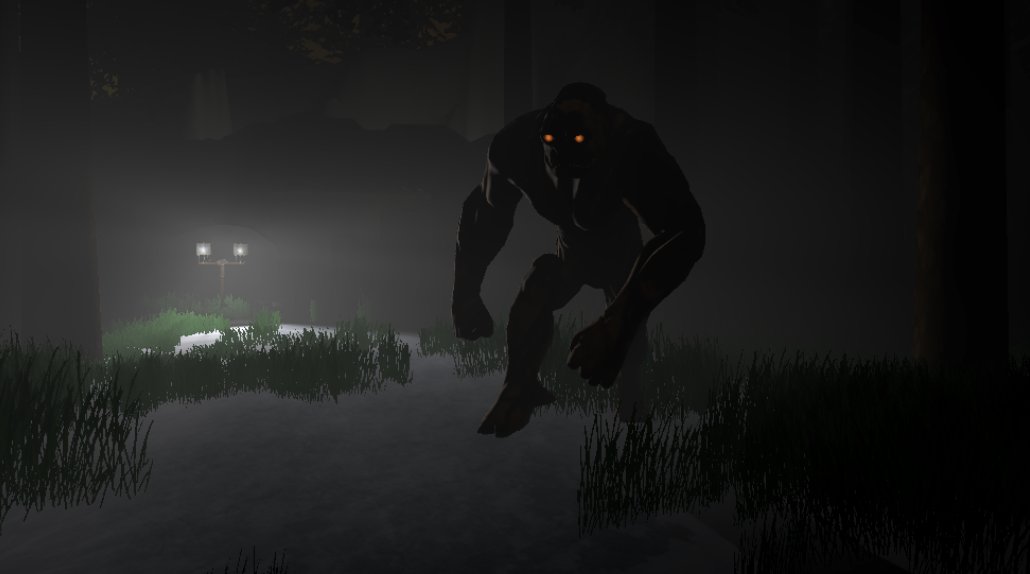 (7) HTC Vive Focus heasets with MeetingRoom.io
The HTC Vive Focus is a breakthrough second generation VR headset with 6-Degrees-of-Freedom tracking in a standalone form factor. They deliver a new level of freedom to 'walk around' VR and we're delighted that the team behind MeetingRoom.io (who featured in this week's Sunday Business Post) will be bringing two of them to this event as well as a demo version of meetingRoom ahead of its open beta release. Sightings of these are headsets are as rare as Bigfoot so don't miss the chance!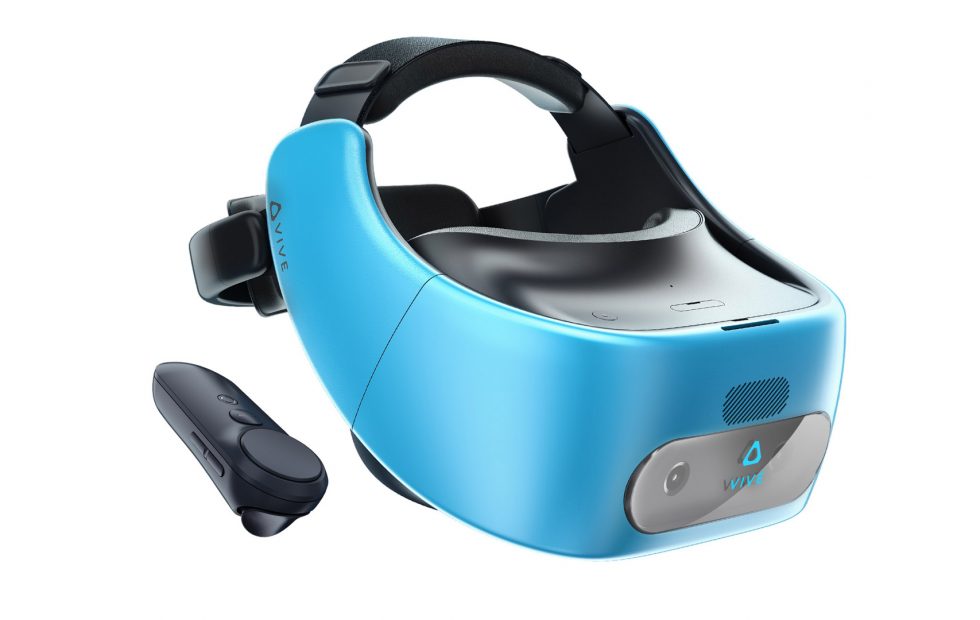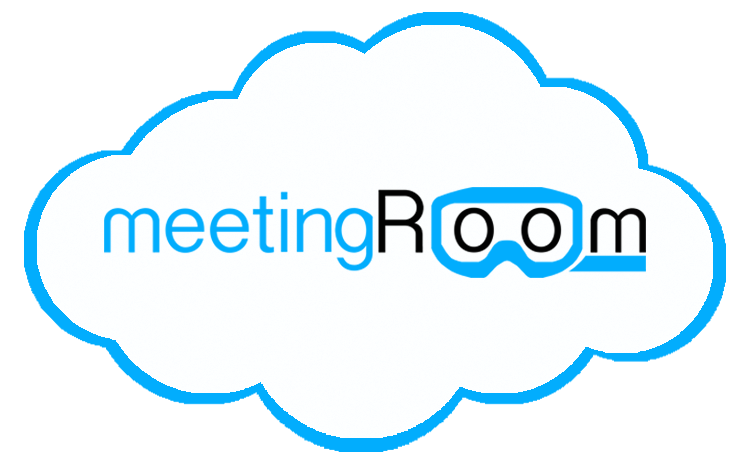 (8) 3D4Medical - Complete Anatomy and Complete Heart with ARKit on the iPad Pro.
3D4Medical will demo how medical professionals and students can use Augmented Reality to gain better understanding of complex anatomical structures and principles. They will showcase key anatomical systems in AR, highlighting their new and interactive beating heart (video here).
Pearse Toomey, Senior 3D Artist and Gusztav Velicsek, Head of 3D will be presenting. Both joined the 3D4Medical team as 3D modellers in 2013, and played a pivotal role in developing the realistic feel and appearance of the Complete Anatomy model.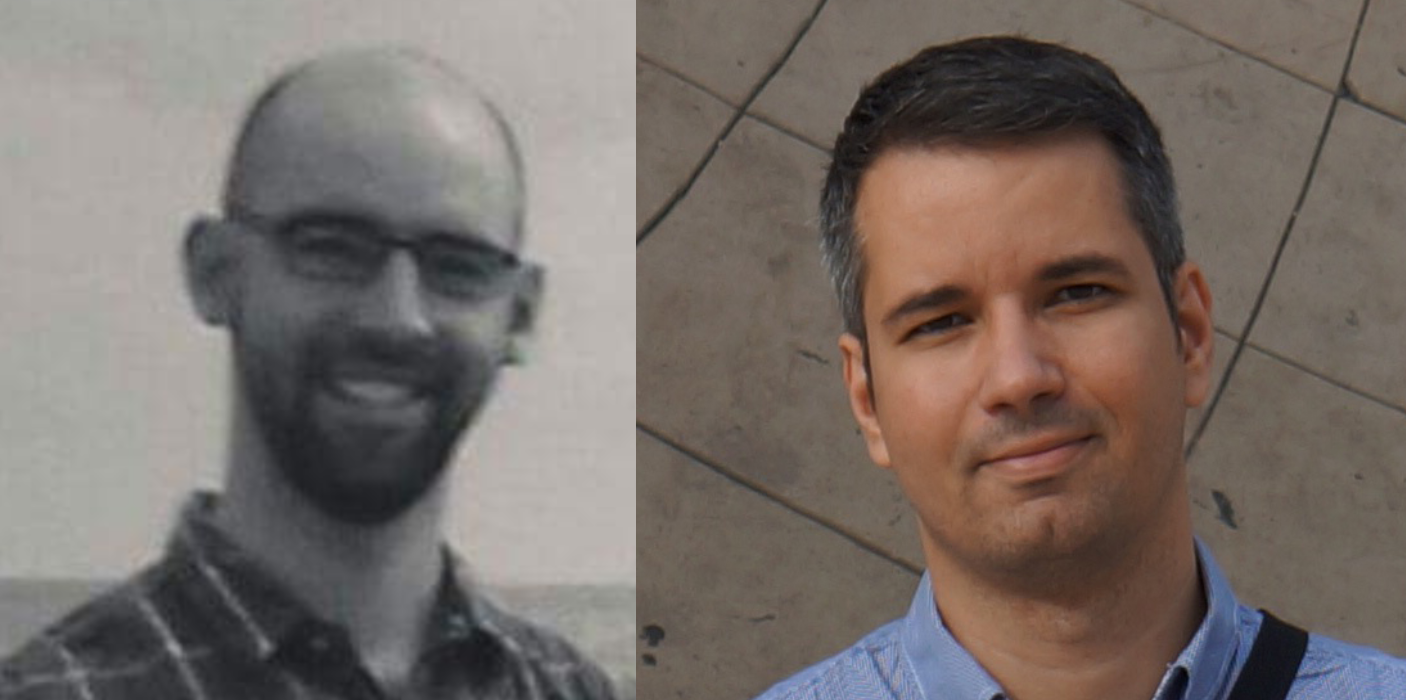 (9) Mars Settler VR
Ando Productions VR experience is called Mars Settler VR. You start in a landing craft amd must traverse through Mars, find the settler base and check the systems and grow the fruit and veg for the coming settlers.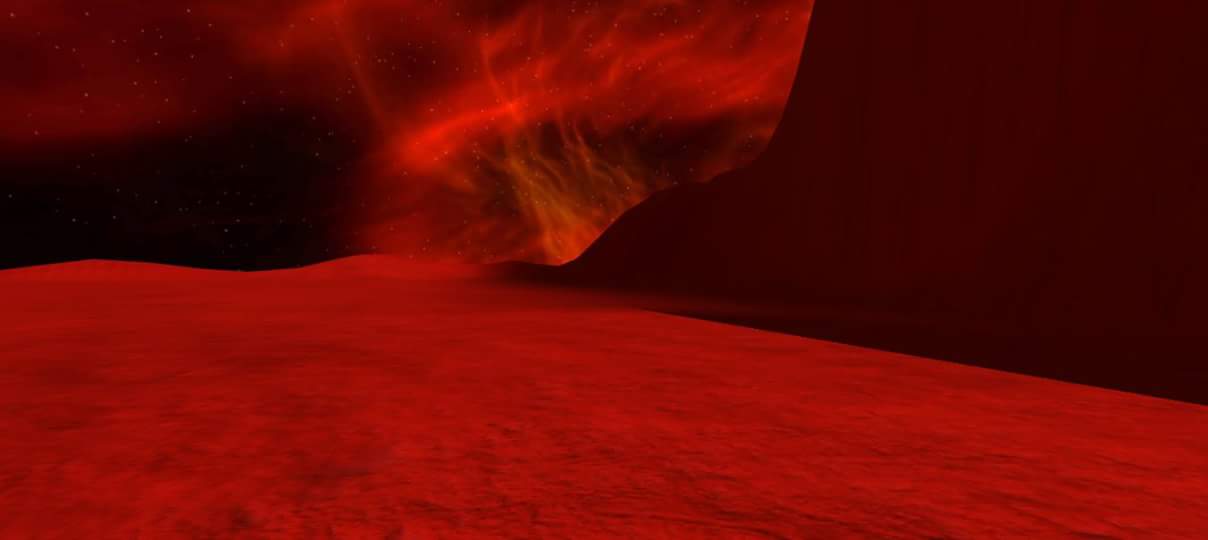 (10) AR Madness, ARKit game for kids
Liberty IT recently made an ARKit game for kids for the Coder Dojo Coolest Projects event and have since open-sourced the code, along with publishing a tutorial on Medium on how to make it. Andy O'Sullivan from Liberty IT's innovation team will demo the game, called AR Madness, at the meetup and dares anyone to try and beat his top score!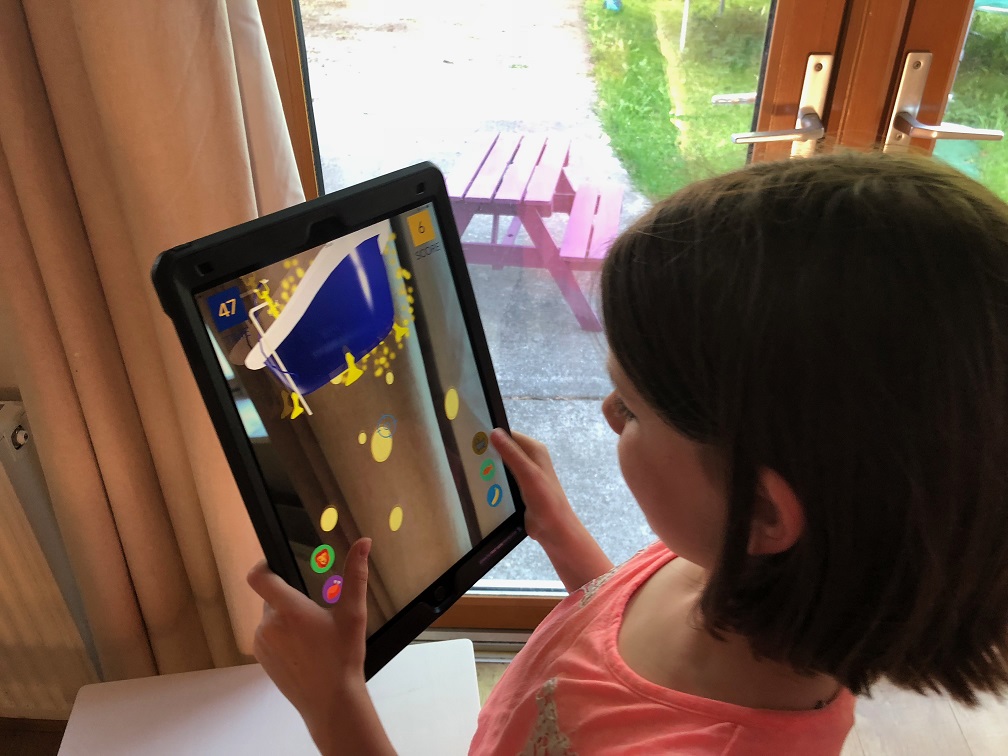 Interested on this event?