A Celebration of the Irish Harp
Thu, 12 Jul 2018
18:00 - 19:00
The Irish harp, in various shapes and sizes, surmounted by a crown, set against a blue or green background, etched on the brass buttons of military uniforms or sometimes linked with other images such as shamrocks or caps of liberty, has been embedded in Irish politics and culture for centuries.
 Teresa and Mary Louise O'Donnell trace the history of the Irish harp, its music and its use as a symbol in this unique talk and recital which provides a wonderful insight into the instrument that has formed part of Irish culture and history for over a thousand years.
Be enchanted by the beautiful sounds and stories of the Irish harp in the atmospheric surroundings of Francis Johnston's magnificent Chapel Royal.
This event will take place at 6pm on 5 evenings in July. The 12th, 13th, 18th, 19th and 20th of July.
Venue Information
The Chapel Royal at Dublin Castle is an outstanding example of 19th century Gothic Revival architecture. Ordinarily, the Chapel may only be viewed as part of a guided tour, but will be opened to ticket holders for this series of concerts.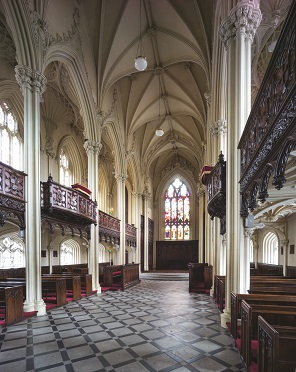 The Chapel Royal
Interested on this event?