Love and Courage LIVE: Chuck Collins on Trump & wealth inequality
Thu, 12 Jul 2018 - Thu, 12 Jul 2018
19:30 - 21:30
NOTE CHANGE OF VENUE TO WYNN'S HOTEL, ABBEY ST, DUBLIN.
Join this special Love and Courage podcast event where Ruairí McKiernan will be interviewing one of the most important voices of our time. Entry is by free but you must register to attend. Hosted in partnership with Uplift and Institute for Policy Studies Program on Inequality. Thanks to Love and Courage patrons for support. www.loveandcourage.org
Chuck Collins is one of America's leading economic equality campaigners. He grew up in Detroit and went to school alongside some of the elite the United States including former Presidential candidate Mitt Romney. Chuck could perhaps be known as the man who gave away all his money after he chose to give away a massive inheritance in his twenties.
Chuck is a powerful voice for justice, a long-time advisor to Bernie Sanders, he is a Senior Scholar at the Institute of Policy Studies, he's a co-founder of several organisations and projects, an author of several books including his new autobiography: Born on third base. Part of Chuck's work involves works with millionaires and billionaires to encourage them to share their wealth and he co-wrote a book on this topic alongside Bill Gates' father, William H Gates.
---
Chuck Collins is the Director the Program on Inequality and the Common Good at the Institute for Policy Studies where he co-edits Inequality.org. He is author of the popular book, Born on Third Base: A One Percenter Makes the Case for Tackling Inequality, Bringing Wealth Home, and Committing to the Common Good (Chelsea Green). His new book, Is Inequality in America Irreversible? is published by the Oxford, UK-based Polity Press.
He is an expert on U.S. inequality and the racial wealth divide and author of several books, including 99 to 1: How Wealth Inequality is Wrecking the World and What We Can Do About It. He is co-author with Bill Gates Sr. of Wealth and Our Commonwealth, (Beacon Press, 2003), a case for taxing inherited fortunes. He is co-author with Mary Wright of The Moral Measure of the Economy, a book about Christian ethics and economic life. He was featured in this interview in Sun Magazine.
He is co-author of several reports including "The Road To Zero Wealth: How the Racial Wealth Divide is Hollowing Out America's Middle Class," "Billionaire Bonanza: The Forbes 400 and the Rest of Us" and "Gilded Giving: Top Heavy Philanthropy in an Age of Extreme Inequality."
He is co-founder of Wealth for the Common Good, a network of business leaders, high-income households and partners working together to promote shared prosperity and fair taxation. This network merged in 2015 with the Patriotic Millionaires. In 1995, he co-founded United for a Fair Economy (UFE) to raise the profile of the inequality issue and support popular education and organizing efforts to address inequality. He was Executive Director of UFE from 1995-2001 and Program Director until 2005.
For Irish media inquires contact talks@loveandcourage.org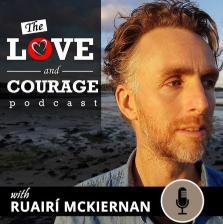 The Love and Courage podcast features soulful audio interviews with inspirational people who have important insights and wisdom for our world today. Guests are typically people passionate about social justice, and who have demonstrated huge courage and conviction in their lives. People like Amanda Palmer, Marianne Williamson, Chuck Collins, Christy Moore, Sister Stan, Liam O'Maonlaí, Dil Wickremasinghe, Sunny Jacobs, Frances Black, and many more. The podcast reached no. 1 in the iTunes charts after its release and has remained hugely popular in Ireland and internationally. 
About the host: Ruairí McKiernan is a multi award winning Irish social innovator, community campaigner, consultant, writer and public speaker. He is the founder of the pioneering SpunOut youth organisation, and helped set-up the Uplift and the A Lust For Life non-profits. In 2012 the President of Ireland Michael D Higgins appointed Ruairí to the Council of State, a constitutional advisory body. Ruairí is the recipient of numerous awards, including a Fulbright fellowship, and he contributes regularly to the media on youth, health, community and social justice issues.
Wynn's Hotel Dublin
35-39 Abbey Street Lower, Dublin 1, County Dublin, Ireland
Interested on this event?
Wynn's Hotel Dublin
35-39 Abbey Street Lower, Dublin 1, County Dublin, Ireland